Empathy Exercises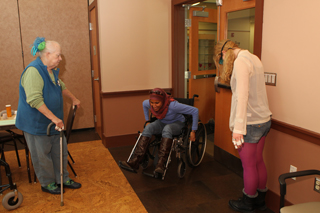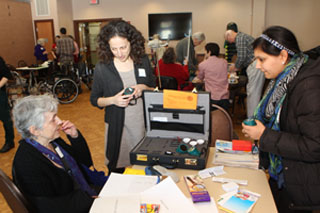 One step to learning about the difficulties due to aging and the opportunities to help is to experience first-hand some of the physical limitations that arise as one ages. The research group is able to learn about these difficulties by using a series of empathy exercises. These exercises are also good in-house testing methods. When running the exercises with older adults present, we invite them to participate too and experience some of the conditions that they themselves do not have but that others (perhaps friends or loved ones) are dealing with.

Eye Conditions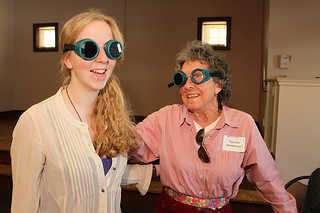 A set of lenses that simulate degenerative eye conditions such as macular degeneration, cataracts, glaucoma, and low vision offer a new perspective on the visual limitations of these conditions.
Movement

Taping the knuckles of the hand helps to simulate arthritis. Participants then try daily activities such as opening a pill bottle, tying shoes, and using scissors, and experience first-hand the difference arthritis makes. Similarly, wrapping knees allows participants to see the challenges of decreased leg mobility while sitting down, rising from the floor, or tying shoes.

Optional Activity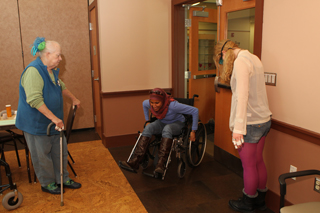 One optional activity for our students is to spend the day in a wheelchair. One of our students took on the challenge and found the building structure constraints at the college nearly impossible to navigate as a healthy and active 18 year old, something that had not occurred to her before.

North Hill OT Workshop
We partnered with the North Hill Fitness Department to develop a workshop to empower the residents to share homemade solutions and work-arounds. Commercial solutions were also displayed and an occupational therapist explained some of the most common products and work-arounds used to help to solve difficulties associated with aging.